Namaaz room: Stir in Jharkhand & ripple effect in UP, Bihar | India News – Times of India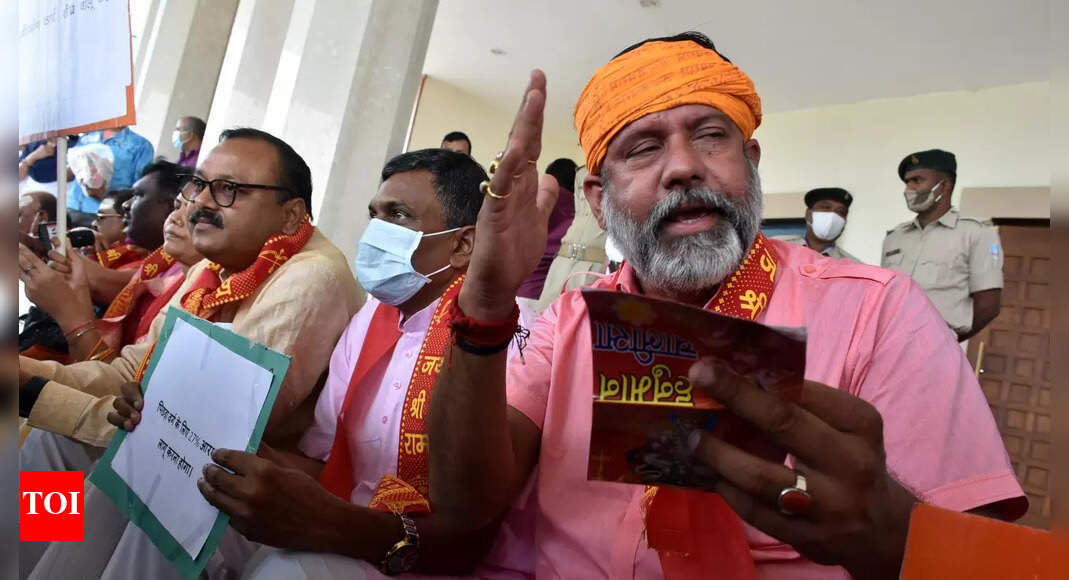 [ad_1]

KANPUR/RANCHI/PATNA: The
Jharkhand
assembly's decision to allocate a room within its premises for MLAs to offer
namaaz
has had a ripple effect in other states. While a
Samajwadi Party
MLA in UP on Tuesday demanded a similar room in the UP Vidhan Sabha, a BJP MLA in
Bihar
has asked for an arrangement for chanting the "Hanuman Chalisa" and reciting the "Bhagavad Gita" by Hindu legislators.
A PIL was filed at the Jharkhand high court against the decision by the
state assembly
, calling it a "strike on secularism" and protests marked assembly proceedings as several BJP MLAs came dressed as Hindu priests. They wanted the speaker to call the lunch break 30 minutes ahead of its schedule on Tuesdays so that BJP lawmakers could pray to Lord Hanuman.
Samajwadi Party MLA from Kanpur Irfan Solanki on Tuesday said he has approached the UP assembly speaker demanding a prayer room in the assembly premises.
In Patna, BJP MLA Hari Bhushan Thakur Bachol, on Tuesday demanded a room to chant the "Hanuman Chalisa" or recite the "Bhagavad Gita" in the Bihar Vidhan Sabha. "I have spoken to Speaker Vijay Kumar Sinha on Tuesday but he has not promised to meet my demand yet," said Bachol.
Meanwhile, a PIL was filed in the Jharkhand HC on Tuesday against the allocation of a separate room to offer namaz inside the state assembly building.
Calling the move as a strike against secularism, petitioner Bhairav Singh said the assembly is a public building and allocating a room for a special class or community is against the secular and the social fabric of society at large.
Protests also broke out at the Jharkhand Vidhan Sabha on Tuesday, as several BJP lawmakers turned up to attend the proceedings dressed as priests to protest against speaker Rabindra Nath Mahto's September 2 notification to allot a separate room to offer namaaz.


[ad_2]