Polkadot, Fantom Crypto Resuming the Uptrend Already?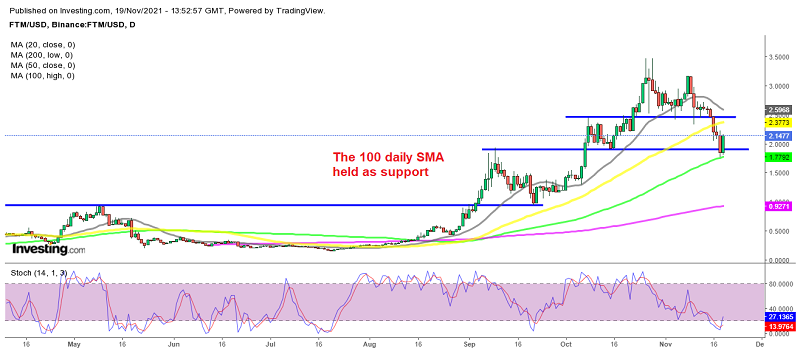 [ad_1]

The crypto market started pulling back late last week, among profit-taking, after the strong surge in the first few days of the week. The pullback was slow last week, but this week it has picked up pace, and we have seen some decent levels being broken to the downside in many major cryptocurrencies. But the decline might have come to an end now, as we are seeing a reversal today, with Fantom and Polkadot beginning to resume the uptrend already.
Fantom Daily Chart Analysis – The 100 MA Holds as Support for FTM
Fantom has been increasingly bullish in the last few months, as it attracted a lot of attention with the Fantom Developer Conference in Abu Dhabi. Fantom is a smart contract platform that offers speed, scalability and security in the blockchain industry. It is one of the fastest blockchains, and it has attracted many projects, hence the bullish momentum.
Source: Coinstack
FTM/USD increased from around $0.15 in late July, to $3.50 by the end of October. We have seen a deep pullback in this cryptocurrency; after breaking the first support zone at around $2,50, it fell below $2,00, which was the second support area. But the 100 SMA (green) came to the rescue and held the decline, acting as support.
Now the price has bounced more than $0.40 higher off that moving average and judging by the strength of the bounce, we can say that the bullish trend is resuming again. If today's candlestick engulfs yesterday's, then that would be a bullish signal to go long on Fantom for those who are out, since we're already long on FTM/BTC.
Polkadot Daily Chart Analysis – Resistance Turns Into Support for DOT/USD
The previous resistance zone below $40 holds as support
Polkadot has also seen a lot of interest throughout the crypto industry, as the parachain auctions went live earlier this month, and we already have a winner. Yesterday, Acala which is a decentralized finance (DeFi) protocol on the Polkadot network, said that it had won the first Polkadot parachain auction. Acala raised $1.28 billion in an ICO (initial coin offering), through a crowdloan.
This interest has kept Polkadot bullish, with the DOT coin increasing from around $10 in late July to $55 earlier this month, before the retreat in the crypto market began, during which DOT/USD fell below $40, but that's where we find a previoius resistance area, which seems to have turned into support now. Today, the price is bouncing off that support zone, and DOT/USD has increased above $40 again, so the retreat seems complete. We are thinking of buying this cryptocurrency today – follow it on our Forex signals page.
DOT/USD


[ad_2]