XRP Price Prediction: Markets Await Ripple's Legal Victory For Rally? – FX Leaders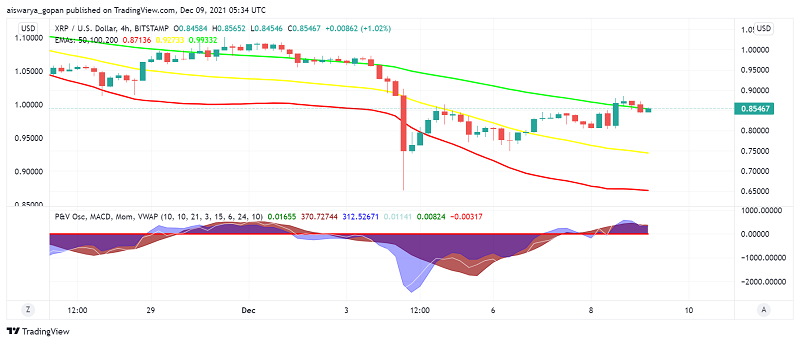 [ad_1]

Ripple's XRP is trading mostly steady, with buyers being unable to break past the key $0.90 level ever since the flash crash in the crypto market last weekend. At the time of writing, XRP/USD is trading at around $0.85.
In the absence of significant fundamental developments, the XRP is experiencing somewhat of a price consolidation. Investors seem cautious about indulging in much buying activity as they wait for bulls to return to market leader Bitcoin. This can boost the market sentiment towards cryptos and digital assets and increase investor confidence in Ripple's XRP as well. On an encouraging note, the price holding steady indicates exhaustion among bears, which means that the XRP could take off as the sentiment reverses.
Even as Ripple faces legal challenges in the US with the SEC lawsuit, the company's recent proposal on how to regulate the crypto sector has been noticed by regulatory authorities in Australia. As Australia gears up to draft its licensing framework for digital asset exchanges Down Under, the final report submitted to legislators contains valuable insights shared by Ripple Labs earlier this year, based on best practices implemented across the UK and Singapore.
A Legal Win Awaited For Ripple's XRP to Take Off
The report states, "Ripple proposed three principles upon which an Australian regulatory framework for digital assets should be founded. The regulatory framework should be technology-agnostic, and should not explicitly or otherwise endorse any particular technology. The regulatory framework should use a risk-based approach to identify digital asset services that pose sufficient risk to warrant regulation."
Meanwhile, attorney representing XRP holders as Amicus Curiae in the SEC vs. Ripple lawsuit, John Deaton, is hopeful of a strong bullish rally in XRP if the case goes in Ripple's favor. According to him, "There's a way for the Ripple case to end and all parties win. It requires two things: 1) favorable rulings for Ripple on fair notice & on the deliberative process privilege; and an Altcoin Bull Market Chart with an upwards trend causing #XRP to surpass its all time high (for example, hitting $5 dollars or higher)".
XRP/USD Technical Analysis
CEO at Real Vision Raoul Pal recently disclosed that he bought into the XRP last year at a time when Ripple's legal woes were just getting started, adding that he believes in the potential of its use cases and the lawsuit is a great risk/reward opportunity. He went on to talk about how XRP's future price action depends solely on the lawsuit's outcome, hopeful that a win could see a rally in its value by as much as 10 times.
XRP/USD
On the H4 price chart of XRP/USD, smaller moving averages along with leading technical indicators MACD and momentum point to some buying interest among investors. However, the larger timeframe MAs – 50 EMA, 100 EMA and 200 EMA are suggesting some selling pressure as well.
Ripple's XRP is holding above the pivot point at $0.829 but needs more buyers to enter the market to test the immediate resistance at $1.00. A break above this level will require a reversal of the bearish mood in the crypto sector for buying pressure to build up.


[ad_2]